07/07/2022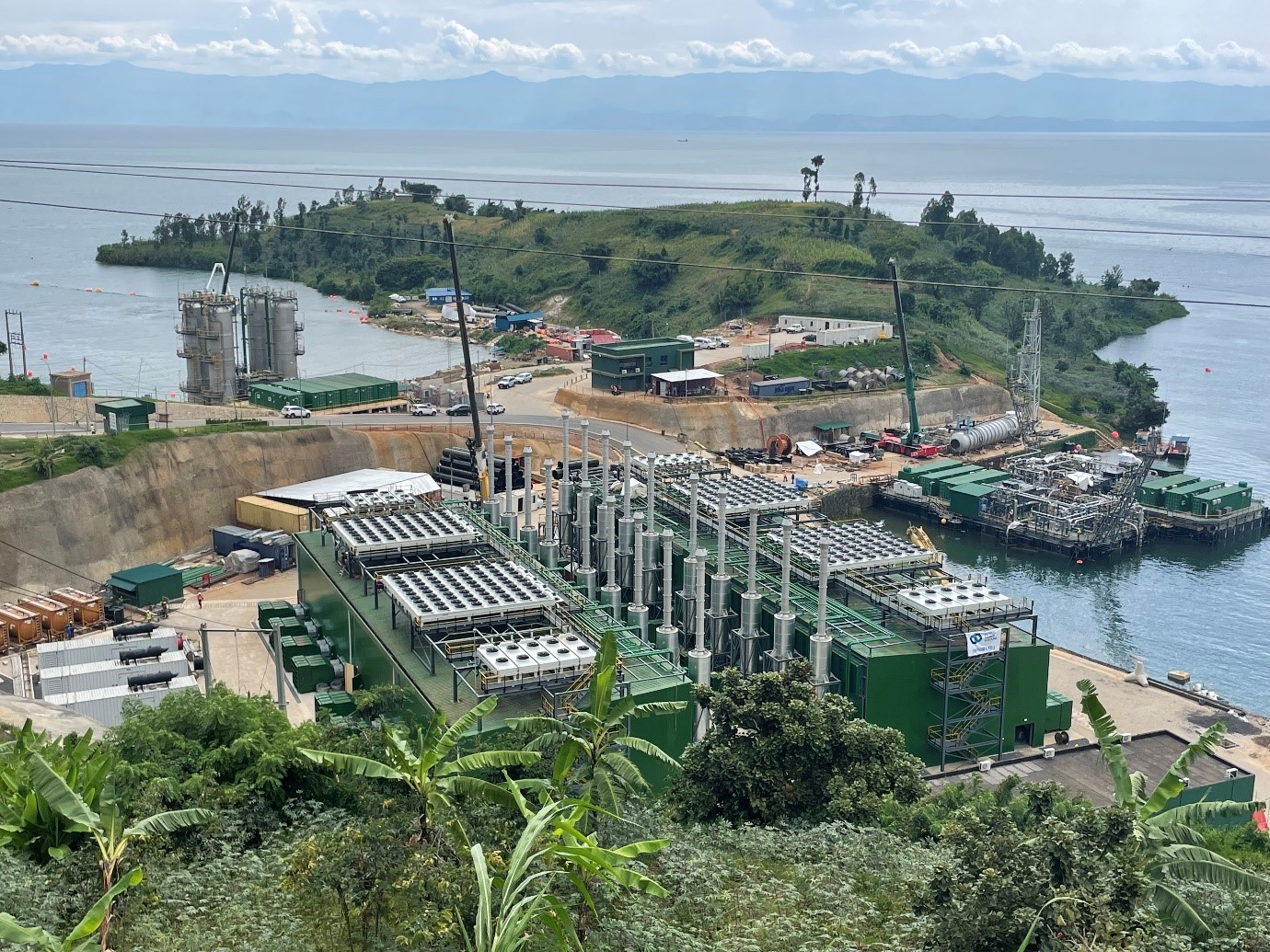 The project faced a major setback in the first quarter of 2022 when it was discovered that the mooring design of the Free-Standing Separators (FRSS) did not work as required. This was despite attempts made to supplement the design with floating units and additional anchors and mooring.
A decision was taken to redesign the FRSS mooring and in this regard, SIGMA Marine was approached to carry out the redesign. The conceptual design was approved in May 2022 and detail design commenced. It is now estimated that the materials required as a result of the redesign will be on site in October 2022 and the first gas has now been scheduled for December 2022, with a revised COD date of June 2023.
While the redesign was taking place, onshore works continued and as at the end of July 2022, the onshore gas plant is substantially complete with the Contractor busy with punch lists and handovers. The team has commissioned the Air and Nitrogen Systems onshore as well as drainage pumps. The remainder of the plant will be commissioned when gas is available.
The Power Plant continues construction with Building A (9 engines 36MW) substantially complete and the Contractor completing punch list items. Building B (10 engines 40MW) is 83% complete and the forecast date of handover is September 2022. Balance of Plant commissioning was carried out over the period and the Black Start Generators have been commissioned, although a cooling issue at high load needs to be resolved. The oil and diesel systems have also been commissioned as well as pump and drainage systems.
Offshore works were placed on hold for a few weeks as we dealt with the impact of the design changes, but in June 2022, GEF Barge 1 was connected to onshore power and the balance of plant on the barge is fully commissioned and connected to the DCS. The Main Compressor will be commissioned when gas is bought onto the barge.
Export Pipeline 1 is complete and will be handed over in the next quarter. Export Pipeline 4 is sunk to level and the team will complete this by the end of August 2022. Export Pipelines 2 and 3 will be completed before the end of 2022.
All GEF Barges are functionally complete and GEF1 is on the station. GEF2-4 will remain at the quay pending the completion of the design changes required for the new FRSS mooring. The project timeline has been delayed by 12 months and all stakeholders have been advised. It is anticipated that COD will be in June 2023.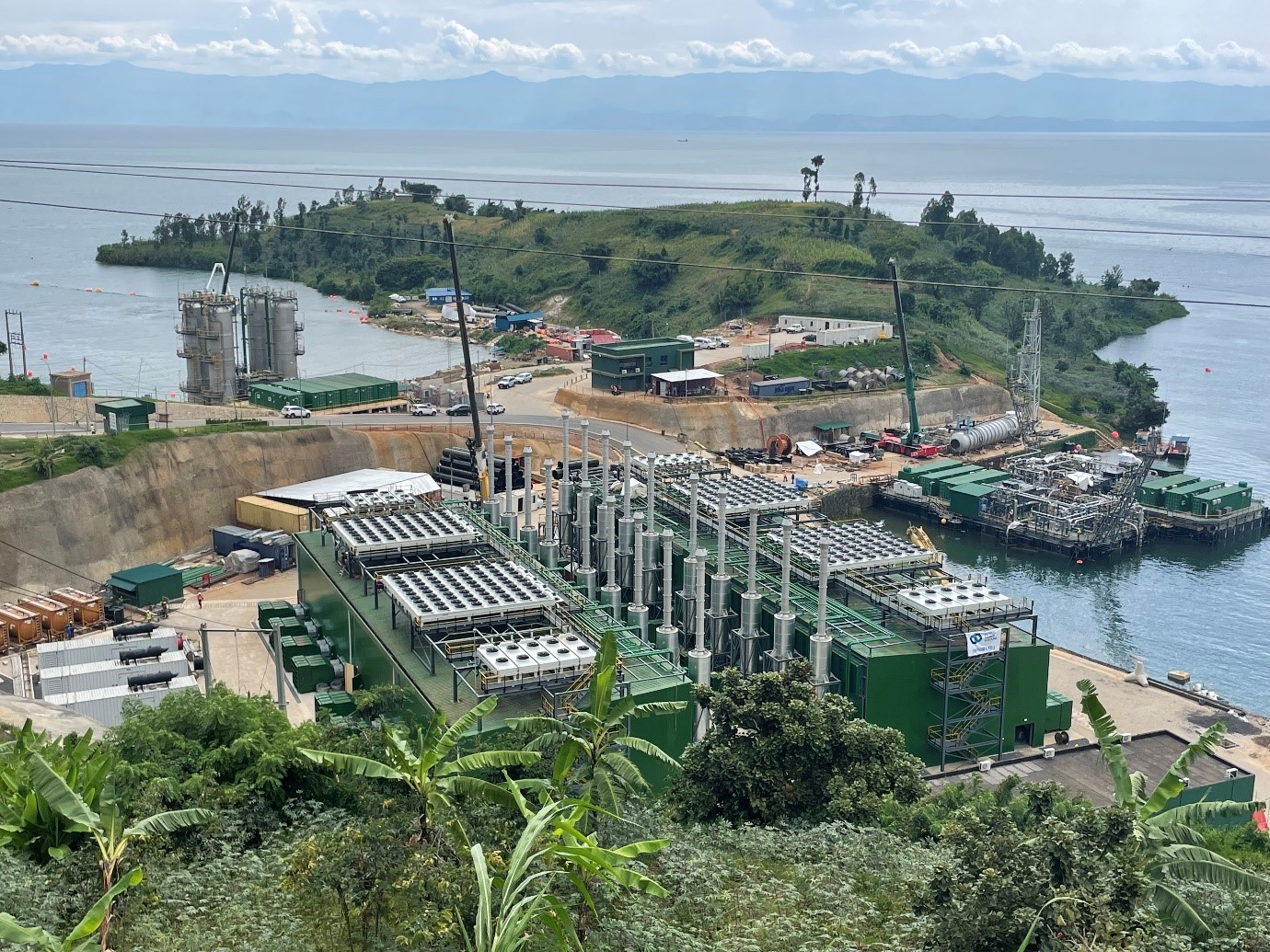 Overview of the site – July 2022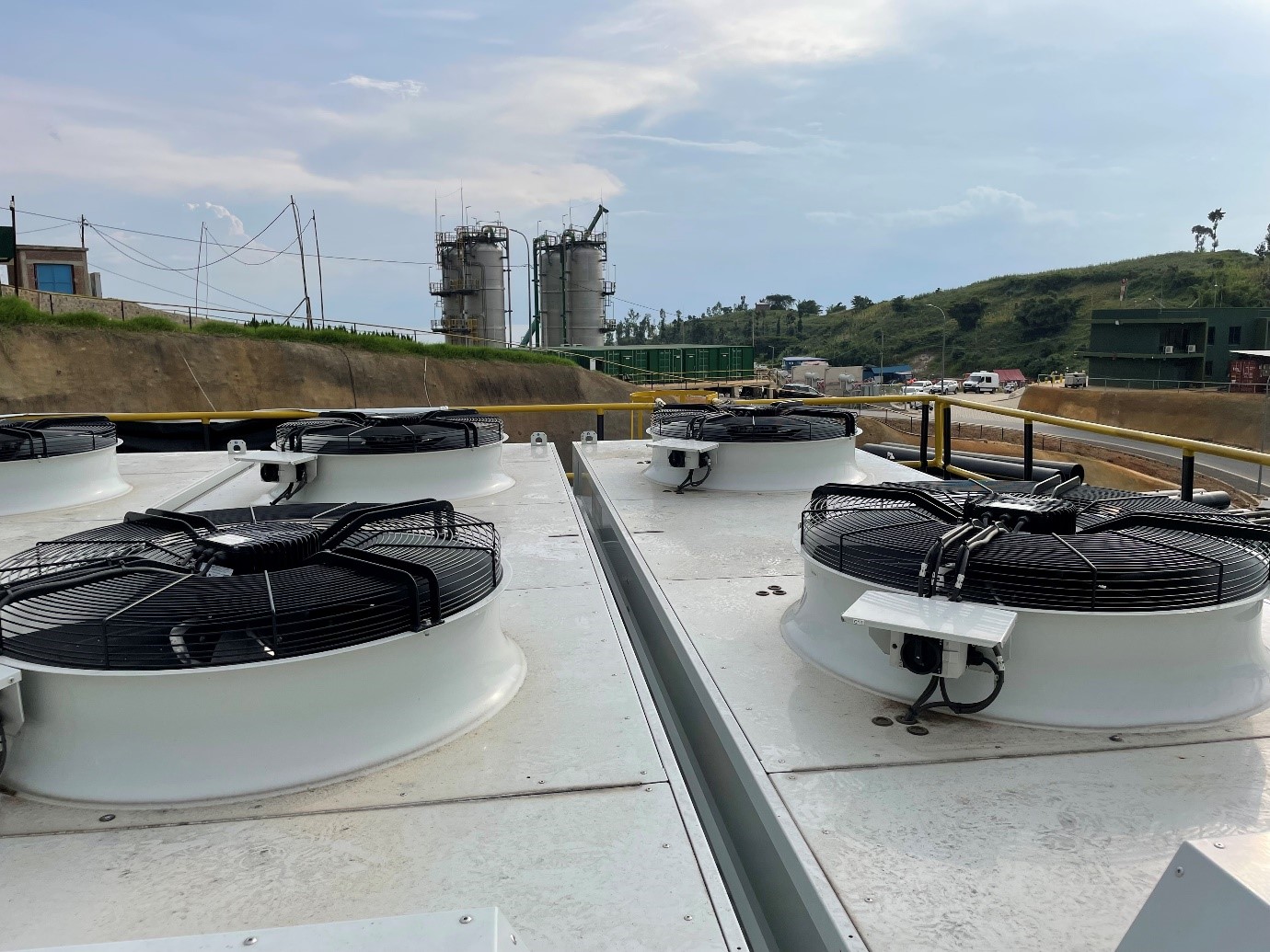 Cooling tables on Power House B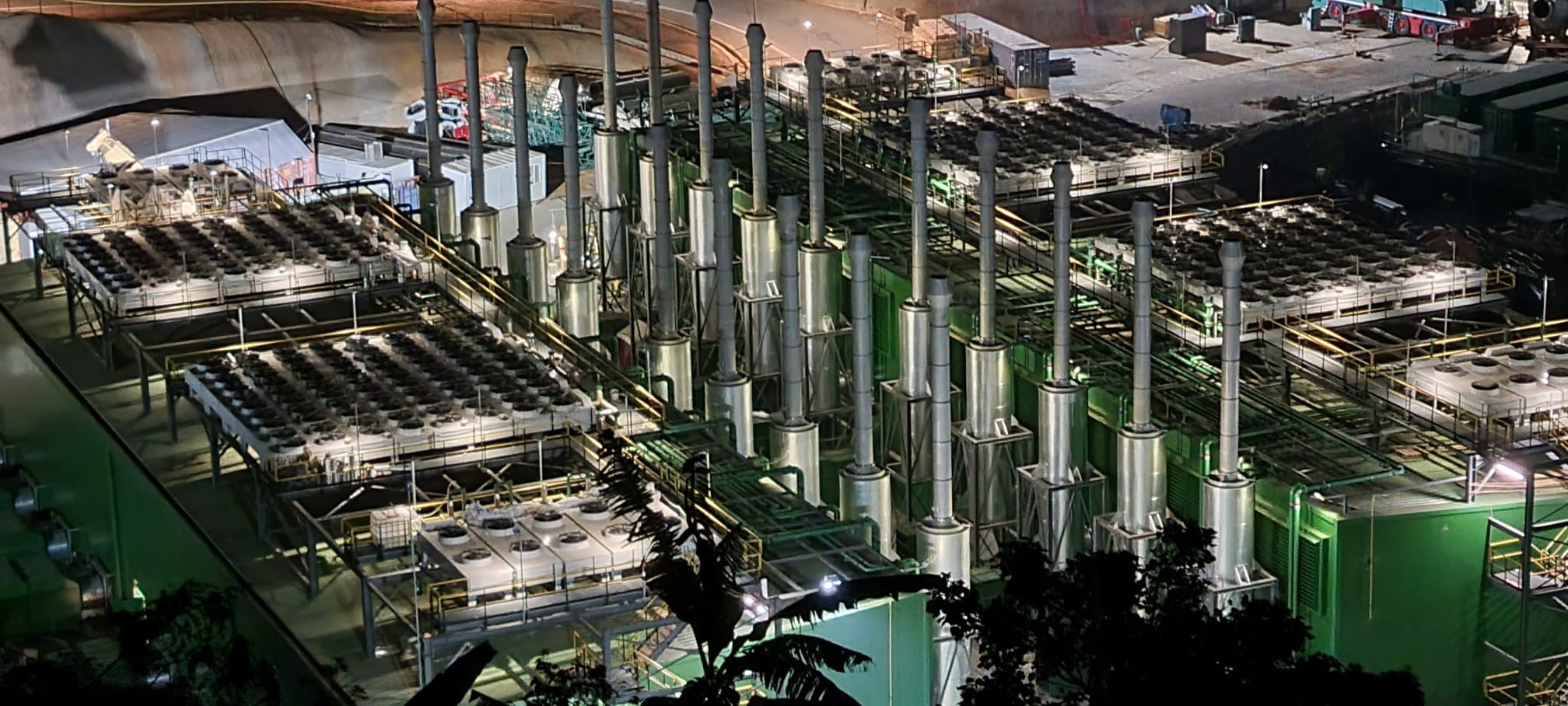 Commissioning Power Plant Lighting System – July 2022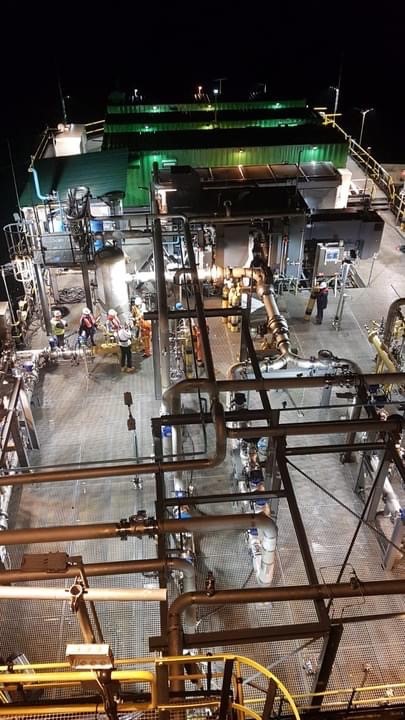 Barge 1  – Full Night Lights on.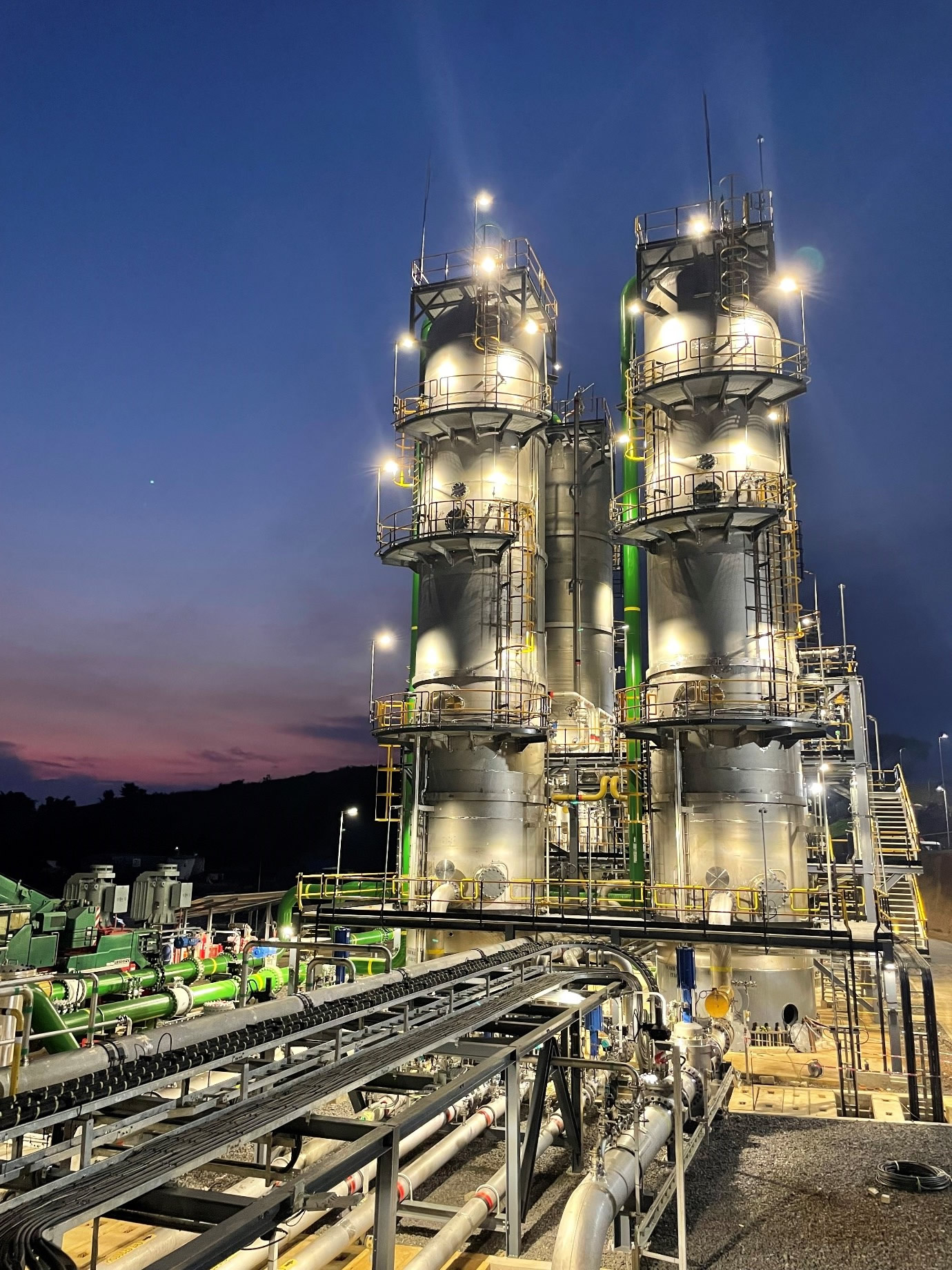 Gas Plant lighting under commissioning